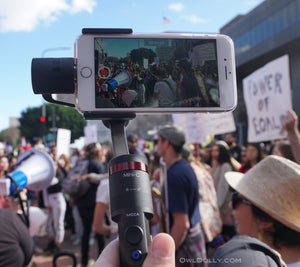 MOZA Mini-C Smartphone Stabilizer, for when you need to film like a pro on the fly!
  It can be difficult to load up and transport bulky, heavy gear to go film where the action is at. MOZA Mini-C Smartphone Stabilizer makes this easy when you have to get to where you need to go fast. Just attach your smartphone and start filming!  

  Wirelessly connect the Mini-C to your phone or tablet via Bluetooth. The MOZA app enables you to smartly control your Smartphone camera from the handgrip. Launch the app to adjust the gimbal's parameters, choose among the filming modes, and control the gimbal movement. From creating time-lapse, panoramic videos, the MOZA Assistant App makes shooting a professional video easier than ever!
   With Moza Mini-C, the user can live stream effortlessly. Hold the gimbal horizontally to let it automatically rotate to the Live Stream Portrait Mode. Now you can capture a shake free live streaming. Tilt the Mini-C to the right/left by 45 degrees and the roll motor will automatically rotate 90 degrees. 
---