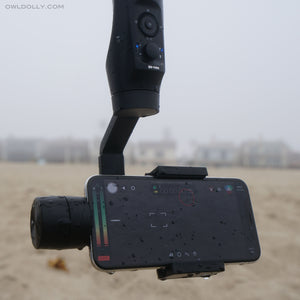 MOZA Mini-Mi Smartphone Stabilizer First Look, Review, and Footage!
Check out this First Look video of MOZA Mini-Mi Smartphone Stabilizer from
Beyond The Time
! He goes over the features of the gimbal, his favorite parts about it such as the ergonomic shape and affordable price, and shares smooth sample footage of deer, goats, and donkeys!   
Introducing MOZA Mini-Mi, the world's first self charging smartphone gimbal! By using inductive charging technology and magnetic coils in the phone holder, the Mini-MI lets you charge your Apple or Samsung mobile phone wirelessly. The 5V USB port on the bottom of the handgrip is compatible with all phone chargers and power banks so you can have full control of your power supply and even charge while you film!
It also features 8 different follow modes, time-lapse capability, live streaming function, and access to camera settings and adjustments from the handgrip so you don't have to touch the smartphone screen while filming.
Read on to learn about all the unique features of MOZA Mini-Mi!
Unleash Your Creative Potential
The Mini-Mi features independent control system for each axis; Roll, Yaw, and Pitch. These axes can be controlled individually by 8 follow modes, giving you the same profesional functionality that comes from MOZA's advance control technology. Use one or all of the eight follow modes to capture smooth cinematic motion. Including the flexibility of manual positioning to give you more freedom to unleash your creativity!
The MOZA App Opens Professional Cinematic Functions On Your Phone
The redesigned MOZA App features professional photo and video settings. Use the built in buttons on the handgrip to control, focus, zoom, view photos, create slow-motion time-lapse, panoramas, change ISO, shutter, EV, and white balance. The MOZA app also supports RGB settings to achieve customized filter effects. Unleashing your camera phone like never before.
Multiple Subjects Detection For Fast Tracking
The built-in artificial intelligence recognition technology enables the gimbal to automatically detect multiple subjects simultaneously. No matter when the subject is running, cycling, or jumping, Mini-MI can follow the subject from a fixed position with amazing accuracy. This ensures precise and reliable subject tracking.
Stunning Motion Timelapse Video
The Mini-MI's advanced MOZA App enables the built-in camera to create stable timelapse shots. Now you can shoot beautiful swirling stars, blooming flowers and spectacular sunrise or sunset with your phone.
Live Streaming
Want to stream smooth and steady video of live events to your friends? The Mini-MI enables you to stream smooth stabilized live video on Facebook, Youtube, Twitter, and Instagram. Allowing you to easily switch from landscape mode to portrait mode.
Control the Camera with Ergonomic Buttons
Gain cinematic control using the ergonomic buttons built into the handgrip. Within a fingertip's reach are a joystick and dial wheel, which can access camera settings and filming modes. Instead of touching the smartphone screen directly, use the buttons in the handgrip to adjust ISO, shutter speed, exposure, focus, zoom, and white balance. Just like a professional-grade camera!
Zoom Control
By using the dial wheel located on the handgrip you can smoothly zoom in without touching your smartphone. The default mode of dial wheel is the zoom control. Simply roll the dial wheel clockwise or counterclockwise to zoom in and zoom out.
Focus Control
The Mini-Mi enables you to dynamically control the focus on your phone so you can capture the magic of special moments. To select focus control, use the MOZA App and select it under the camera settings menu.
Inception Mode for Amazing Dutch Tilt Shots
The Mini-MI can achieve 360° rotation in roll axis without limits. Go from a slow Dutch tilt to a quick pan. With unlimited range of movement the Mini-MI offers cinematic potential as unlimited as your imagination.
User Friendly Quick Launch
Don't worry just film! The Mini-Mi's advanced software technology allows a user to setup the gimbal's roll arm to either side. Right or Left side, you decide which side to mount your phone on.
Multiple Camera Accessory Mounts
The Mini-Mi has in total four, ¼ accessory mounts. The smartphone mount has two of the ¼ mounts that can be found on the top and bottom for a light or microphone. The last two ¼ mounts can be found on the handgrip and the bottom of the handgrip, prefect for mounting to a tripod or extension pole.
Key Features
Supports wireless phone charging
8 follow modes and manual positioning
Built-in camera in the MOZA App for professional filmmaking
Full control of the camera with ergonomic buttons
Multiple subject detection for fast tracking
User-friendly launch
Inception mode for creative shots
Enjoy!
-Owldolly
---