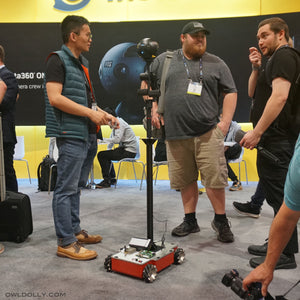 New Guru 360 Rover Prototype Unveiled At NAB Show!
  NAB Show is a celebration of new ideas at our booth C1453 shared with Gudsen MOZA! Check out a prototype we've been working on. Its called the Guru 360 Rover!
Guru 360 Rover's visible profile is unnoticeable to single lens camera and almost invisible to 360 cameras. The rover can push or pull regardless of wheel direction, move laterally left or right, rotate 360 degrees in place, and also turn in an arc. Think of the Guru 360 Rover as a robotic camera assistant that is always happy to hold the same position and ready at a moment's notice to move when commanded. It's featured in the photo with Guru 360 Air Gimbal and Kandao Obsidian attached. While it's not quite ready for the public yet, we will keep you updated! 
Check out a past video of Guru 360 Air Gimbal Stabilizer and Insta360 Pro in action with a home made Rover using a RC car! 
The Moza Guru 360° Air is a 3-axis handheld stabilizer designed for VR cameras. This unique gimbal allows a professional 360 camera to capture smooth 360 video. The Moza Guru 360° Air combines advanced stabilization technology, industry leading design, and intelligent software. It offers a 360 filmmaker a tool to create immersive content for the VR world. With an impressive payload capacity of 3.3lbs, the Moza Guru 360° Air works with a huge range of 360 cameras, including the popular Z CAM S1 Pro, Insta360 Pro, Obsidian Go 360, GoPro Omni 360,  and Vuze.
Enjoy!
-Owldolly
---