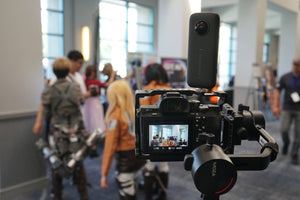 NEW MOZA AirCross 2 is Here, Use Code "BacktoSchool" to Get $10 Off
The NEW MOZA AirCross 2 is here, order now. Only weighing in at 2 pounds with battery, the AirCross 2 features a 7lbs payload. Efficiently transport the new MOZA AirCross 2 with the Gimbal Bag. The Best Gimbal Backpack for conventions, traveling, urban adventures. Use code "BacktoSchool" to get $10 off the Gimbal Bag for $49.95 while supplies last. Pictured the AirCross 2, Sony A7SII in a Nitze Camera Cage, and Insta260 One X. Convention Anime California 2019.
Check out this amazing video of the MOZA AirCross 2 from MDIFilms going over the top 5 features of the AirCross 2. Learn how to use your Smartphone to turn your camera and AirCross 2 into a subject tracking system. The AirCross 2 features, a 7lbs Payload, 12 Hours of Battery Life, Full Battery Charge in 1.5 Hours.
---