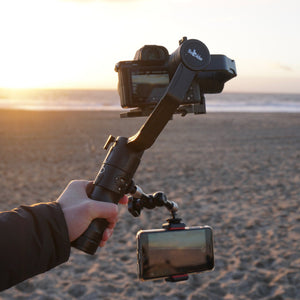 OwlDolly combines Beholder EC1 gimbal stabilizer and reliable customer service!
  Sunshine rays on Beholder EC1 make everyday a good day! Beholder EC1 features a 1/4" mount on either side of the handle for attachment like this cine arm or a mic. 
Use code "50off" now to get $50 off your purchase of Beholder EC1!
  We strive to provide the best customer service so you can spend more time creating and less time troubleshooting.
  Technical support is available Monday through Friday and we offer a one year manufacturer's warranty provided by TRD and handled through OwlDolly.  Our website, owldolly.com, features an extensive Frequently Asked Questions page where many artists have found their problems answered.  If the FAQ does not help, email us at  Sales@OwlDolly.com with your questions and order number.  In the case more help is needed, contact us at the phone number (424) 235-4695.  
Check out this Stabilizer Set Up video to learn about balancing and more:
Check out the full list of Beholder EC1's features and get one today! 
Enjoy!
-OwlDolly
---