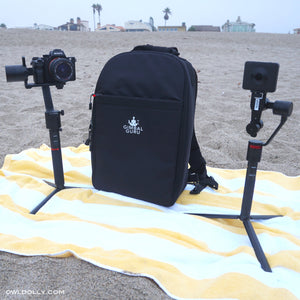 Owldolly Family Portrait with MOZA Air, Gimbal Bag, and Guru360 Gimbal Stabilizer!
  It's an Owldolly family portrait! From left to right is MOZA Air Gimbal Stabilizer, the Gimbal Bag, and Guru 360 Gimbal Stabilizer! The Gimbal Back is the perfect backpack to store and carry your handheld gimbal and camera!
  Inside the Gimbal Bag are two Velcro straps: one for the handle, and one for the camera lens. The dividers are removable. You can even remove all the dividers and just use it as a normal backpack. The straps are adjustable and removable as well. 
  Guru 360° Gimbal Stabilizer is the key tool to pair with the Kodak Orbit 360 Camera or other lightweight 360 cameras!  Guru 360° is designed just for 360 cameras and makes it possible to keep an even horizon and maintain a shake free view.
  It features automatic inversion and three filming modes including follow mode for fluid motion, lock mode to lock in each axis, and head lock mode to lock the camera's lenses in a fixed direction. 
    The stabilizer is compatible with cameras under 250 grams such as Samsung Gear 360, Nikon Keymission 360, Vuze, Fly360, Garmin Virb 360, Kodak SP360, Xiaomi MiJia  360, Ricoh Theta S 360, and more! 
  MOZA Air is a handheld gimbal stabilizer designed for all mirrorless and most DSLR cameras. While it only weighs 1.1kg(2.4lbs), it can impressively hold a camera and lens combo up to 2.5kg(5.5lbs)! 
  Create professional cinematic videos, smooth and stable shots, and breathtaking time-lapse footage with MOZA Air. Unlike other gimbals, MOZA Air can rotate the camera 360 degrees on yaw, tilt, and roll axes making it free to capture 360-degree panoramic videos! 
Enjoy!
-Owldolly
---