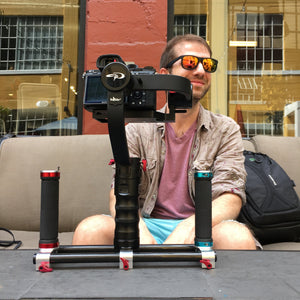 Pre-Order the Beholder EC1 $900, EC1 Setup VideoBeholder DS1 Summer Sale
Chill out with the Beholder Support and our trusted Beholder DS1 with A7SII combo. Pictured Beholder DS1 Camera Stabilizer, Sony A7SII 16-35mm FE Zeiss with Beholder Support. Check out our summer savings and sale on the Beholder DS1.


Want the best in camera stabilization, don't forget to get the best in support for your Beholder EC1, DS1 or MS1 from OwlDolly. From repairs to troubleshooting, OwlDolly offers %100 product support.
Discover the best value in camera stabilization with a Beholder EC1 Camera Stabilizer for $900.00, or a Beholder DS1 for $699.95 or a Beholder MS1 for $499.95. Order now and get an extra set of batteries.
The Beholder EC1 Camera Stabilizer is the next evolution in the Beholder stabilizer family. The EC1 is similar in weight and size to the Beholder DS1 but the EC1's tech operates on a whole new level of vibration free stability. This means EC1 has greater perception of change and the ability to smoothly compensate for that change. The stabilizer packs in many new features, like an OLCD status display, 20 hour battery life and more. Follow the link to learn more about the Beholder EC1 Camera Stabilizer. The EC1 for $900 will ship out mid July, limited presale stock order now.

Stabilizer Sale:

Beholder DS1 Summer Deal, get a DS1, Beholder Remote (3ft or 6ft), MC-1 Battery Charger, extra Quick Release plate, for $749.95.




Pictured, the Beholder Support with Quick Release for $99.95, free shipping.

Watch this video to learn how to setup the Beholder EC1 with sony A7SII and 24-70mm. 
-OwlDolly


---