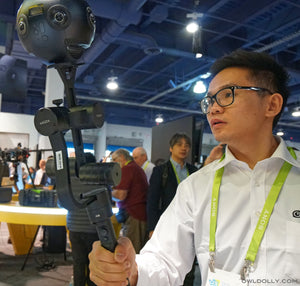 Setup and Balancing for the Insta360 Pro 360 Camera with MOZA Guru 360 Air
Need help balancing your Insta360 Pro 360 camera with Guru 360 Air Gimbal Stabilizer? Check out this helpful instructional video! We have added other videos as well on our Youtube page about counter weights and how to balance different 360 cameras with Guru 360 Air!
  Guru 360° Air is a 3-axis handheld stabilizer designed for professional 360 cameras! This unique gimbal allows a 360 camera to capture smooth 360 video with advanced stabilization technology, industry leading design, and intelligent software such as the MOZA Assistant App. 
  While it only weighs 2.4 lbs (without counterweights), it features an impressive payload capacity of 3.3lbs! The Moza Guru 360° Air works with a huge range of 360 cameras including the popular Z CAM S1 Pro, Insta 360 Pro, Kandao Obsidian Go 360, GoPro Omni 360, and Vuze. Attach it to your 360 camera and drones for endless adventures!
Act now to receive Guru 360 Air for the discounted price of $699! Starting February 5th, Guru 360 Air will revert to it's original price of $799. The first batch of Guru 360 Air sold out quickly, so pre-order now to reserve yours today! The newest shipment should be ready in 4-5 weeks. 
Enjoy!
-Owldolly
---