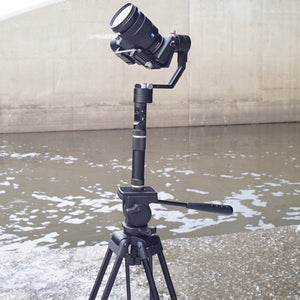 Somita St-650 Tripod supports Zhiyun Crane gimbal stabilizer to get the smoothest shots!
  Just imagine, this could be the set up of your future hard hitting documentary about concrete and rivers starring Zhiyun Crane camera stabilizer and Somita St-650 Tripod!
  Somita St-650 is a must have tripod for the always on the move video enthusiast. The two-section legs can be adjusted to ensure a level platform and the spreader will help hold the legs firmly in place. The included 65mm fluid head helps capture smooth panning and tilting shots. The 65mm bowl head offers the ability to further adjust the levelness of the tripod and camera. The fluid head will support cameras up to 15 pounds. It's maximum height reaches 62 inches, minimum height is 29.5 inches, and it weighs 7 pounds.
Also featured: Sony A6300 camera with 16-35 lens.
Enjoy!
-OwlDolly
---