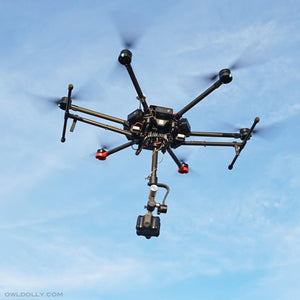 Stabilizing the skies with Guru 360 Air, Kandao Obsidian S, and DJI Matrice 600 drone!
Enjoy this epic clip of the beautiful sunset above Castaic Lake California. Filmed with a DJI Matrice 600 drone and  MOZA Guru 360° Air with Kandao Obsidian S 6K 3D Stereo camera!
Thank you to CreatorUp for filming and editing together the video, Jordan Galloway at WISPProductions.com, and Allyson Maynard of Radiant Images!
Make sure to check out CreatorUp on Youtube and subscribe to their channel!
   The Moza Guru 360° Air is a 3-axis handheld stabilizer designed specifically for professional 360 cameras to prevent shaky footage and unwanted movement while keeping horizons even! Guru 360° Air combines advanced stabilization technology, industry leading design, and intelligent software. It offers a 360 filmmaker a tool to create immersive content for the VR world. The bottom of the handgrip features 1/4" and 3/8" mounts to make it possible to attach to a drone, tripod, slider, crane, and more. 
  With an impressive payload capacity of 3.3lbs, the Moza Guru 360° Air works with a huge range of 360 cameras, including the popular Z CAM S1 Pro, Insta360 Pro, Obsidian Go 360, GoPro Omni 360,  and Vuze!
Act now to receive Guru 360 Air for the discounted price of $699! Starting February 5th, Guru 360 Air will revert to it's original price of $799. The first batch of Guru 360 Air sold out quickly, so pre-order now to reserve yours today! The newest shipment should be ready in 4-5 weeks. 
Pre-order Guru 360 Air today for $699!  
-Owldolly
---