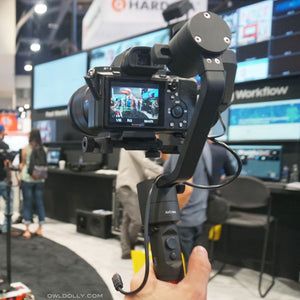 Test Footage from Google 180VR with Guru 360 Rover, Onewheel+ XR, Entaniya HAL200 in VR180!
CreatorUp filmmaker Hugh Hou has published this new video starring a wide array of new gear including Guru 360 Rover while Hugh zooms on a Onewheel+!
Hugh states: "Here is test footage of Google 180VR with custom built setup - 2x Panasonic LUMIX GH5 + Entaniya HAL200 fisheye lens without using the official Google certified VR180 cameras. 


In the video, we have the brand new Guru 360° Rover - Omni-directional Movement 360° Rover filming me in 60fps 6K stereo (with Insta360 Pro)."

Rover test footage is coming soon!
Read more about Guru 360 Rover:
Omni-directional Movement
The rover can push or pull regardless of wheel direction, move laterally left or right, rotate 360 degrees in place, and also turn in an arch. To enable such amazing control over movement the Guru 360° Rover uses special mecanum wheels and motor control hardware/software.
Follow, Explore, Create with Minimal Crew Obstructions
This rover is designed to follow actors, roam real estate, wedding cameraman #2, or just explore the environment with minimal crew/equipment obstructions.  How fast is the rover? Expect especially slow crawls, and at full speed a brisk walking pace. This rover is designed to work closely with the talent, allowing cameras to capture mesmerizing unobstructed points of view.
The Equipment Stand
Use the Guru 360° Rover for a single lens camera or a 360 camera. The rover's equipment stand is designed to be used in conjunction with gimbals like the AirCross or 360 Air, along with an isolator, and camera system. The equipment stand of the rover is height adjustable. This allows the camera lens height to be adjusted for actor height or as the situation dictates. To help with ease of transporting the rover from location to location the equipment stand is detachable.
Chassis Equipment Loops
Equipment tie down loops can be found on top of the Guru 360° Rover's chassis. These loops are designed to allow for camera accessories like external batteries to be secured to the rover.
Wireless Control
Communication to the rover is through a wireless remote with a range of almost four football fields (383 Yards, 350 Meters). The remote's joystick offers fine granular control over rover movement. Feel confident in keeping pace with the scene and matching any change in direction.
Capture Dynamic Points of View 
Enthralling camera movement at your fingertips with the Guru 360° Rover. Use the rover in conjunction with a MOZA gimbal running Mimic Motion Control, and gain ultimate creative control. Use the rover to push the camera into the action, pull back the rover for perspective, and match the dynamic momentum of the scene with the Guru 360° Rover for single lens cameras or 360 cameras.
Guru 360 Rover is featured in the photo with Guru 360 Air Gimbal and Kandao Obsidian attached. 
Guru 360 Rover should be available by September!
Enjoy!
---