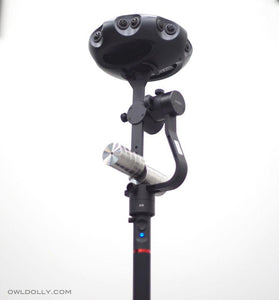 Testing Guru 360 Air and Insta360 Pro with A Rover For Smooth, Perfect 360 Footage!
 Check out Guru 360 Air Gimbal Stabilizer in action with a rover! Watch as Hugh Hou from Creator Up and Devlin from Gimbal Guru set up the heavy duty gimbal system and test it out with Insta360 Pro and also on a home made Rover using a RC car! 
The Moza Guru 360° Air is a 3-axis handheld stabilizer designed for VR cameras. This unique gimbal allows a professional 360 camera to capture smooth 360 video. The Moza Guru 360° Air combines advanced stabilization technology, industry leading design, and intelligent software. It offers a 360 filmmaker a tool to create immersive content for the VR world. With an impressive payload capacity of 3.3lbs, the Moza Guru 360° Air works with a huge range of 360 cameras, including the popular Z CAM S1 Pro, Insta360 Pro, Obsidian Go 360, GoPro Omni 360,  and Vuze.
Enjoy!
-Owldolly
---