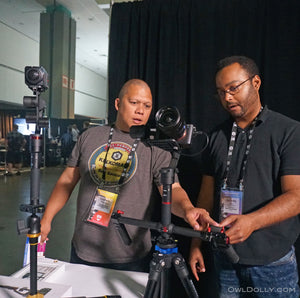 Throwback Thursday to VRLA 2017 Expo with Guru 360 and MOZA Air!
  Throwback Thursday to VRLA Expo 2017! As the picture shows, Guru 360 and the MOZA Air gimbal stabilizers bring people together to make new friends.  
  Guru 360 is a 3-axis camera stabilizer for 360 cameras and supports lightweight 360 cameras like the Nikon Keymission 360 (pictured), Samsung Gear 360, Ricoh Theta S, Kodak PixPro, Kodak Orbit, and more. Guru 360 works to correct unwanted movement, rotation, roll, and horizon drift, and offers 'follow', 'lock', and 'head lock' filming modes.
  The MOZA Air has a payload of 2.5Kg/5.5lbs, supports all mirrorless and DSLR cameras, rotates 360 degrees and can be controlled via a wireless thumb controller or the app.  Users can start or stop the camera recording from the handgrip control as well as adjust the gimbal movement and switch operation mode. 
  The Air provides camera body and lens specific PID tuning meaning an operator can skip over the difficult learning curve of PID tuning and focus on filming. The MOZA Air kit includes a travel friendly stabilizer support with dual handgrips all for just $599. 
 Read all about Moza Air Camera Stabilizer and pre-order today for $599! 
Enjoy!
-OwlDolly
---