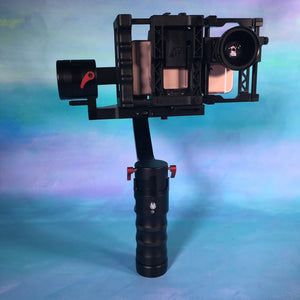 Upcoming Setup Video, Hot Summer Sale, BeastGrip the DS1
Since super hero team ups are in, we would like to suggest  the team up of the BeastGrip Pro with Beholder DS1. Upcoming setup video will demonstrate how to perfectly align their powers and use them as a force to tell a good story. Pictured iPhone 6s, BeastGrip Pro, and Beholder DS1 Camera Stabilizer.

Want the best in camera stabilization, don't forget to get the best in support for your Beholder DS1 or MS1 from OwlDolly. From repairs to troubleshooting, OwlDolly offers %100 product support.

Stabilizer Sale:

Beholder DS1 Summer Deal, get a DS1, Beholder Remote (3ft or 6ft), MC-1 Battery Charger, extra Quick Release plate, for $749.95. 
The Beholder Support with Quick Release is in stock and available today for $99.95, free shipping.

Pictured Beholder DS1, Sony A7SII 16-35mm FE Zeiss with Beholder Support and Remote.

Discover the best value in camera stabilization with a Beholder DS1 Camera Stabilizer for $699.95 or a Beholder MS1 Camera Stabilizer $499.95. Order now and get an extra set of batteries.


Pictures BeastGrip Pro, iPhone 6s, with Beholder DS1 Camera Stabilizer.
Upcoming setup video for the Beholder DS1 should be released Friday the 17th.
-OwlDolly


---